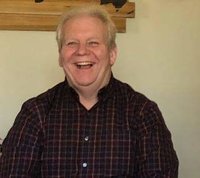 James Alan "Jim" Cox
With profound sadness, James "Jim" Alan Cox born in Brantford passed away at his home in Grand Bend with the love of his family in his heart. Loving husband of late Kathy Cox (May 7th, 2021). The very proud father of Scott (Brittany), Brett (Myriam), and Andrew (Amanda), and adoring grandfather of Stella and Austin. He also leaves behind two fuzzy friends, Tank and Bear. Jim will be remembered by his sister, Carrie and Ron Blacker, sister-in-law, Jackie and Tom Aerts, brother-in-law Stuart and Angie Cusworth, and many nieces and nephews. Jim was predeceased by his parents, Al and Marg Cox and in-laws, Jack and Elsie Cusworth. Jim began his career running Cox's Service Station, spending the rest of his career teaching in Brantford with the Grand Erie District School Board. Jim enjoyed doing projects around the house, spending time with his grandchildren, and watching the Leafs with his boys. Jim loved his community, always getting to know all his neighbours, being a social butterfly wherever he went. Jim also enjoyed playing squash, coaching hockey (shoutout Paris & P.J. girls' hockey), watching the same movies, and he loved pulling all of our legs. In the past year Jim and Kathy moved to their dream home in Grand Bend. They looked forward to spending more quality time with their family in a house where they could all be together for the holidays. Jim really enjoyed the community here, always going out of his way to talk and laugh with his neighbours and offer support where he could. In a very short time, they met many of their neighbours on their daily walks or bike rides. Jim will be deeply missed by his family and many who knew him. He is on his next adventure, albeit early and reunited with Kathy and all those who have passed before him. Until we meet again....

Donations can be made in Jim Cox's memory to the Heart and Stroke Foundation of Ontario or towards a memorial bench or tree. Details for a joint Celebration of Life for both Jim and Kathy will be posted at a later time. Donation cards will be available at the Celebration of Life. Arrangements entrusted to the T. Harry Hoffman & Sons Funeral Home, Dashwood.