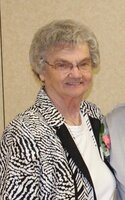 Mary Govers
GOVERS: To the world you were one person: to our family you were the world. On May 20, 2022 the Govers Family lost their heart, their soul and the tie that bound them together. At the age of 86, Mary (Suykerbuyk) Govers of Crediton passed peacefully at Strathmere Lodge, Strathroy, where she was a resident for the past ten months. Wife and Soulmate to John for 64 years. Mother and confidant to Rick (Marg), Mary-Ann (Steve) and the late Ken (Deana) who she will meet with a smile as they reunite. Always waiting with open arms and willing to drop everything for her grandchildren: Kim Govers (Chris), Dave Govers (Sarah), Greg Govers (Lindsey), Michelle Koricina, Matt Koricina (Brittany), Emily Govers (Jordan), Colleen Govers and Lindsay Govers (Ryan). Great Grandma to nine, who brought her so much joy: Lizzie Dorak; Jason, Wyatt, and Charlotte Govers; William, Madelyn, and Olivia Govers; and Brayden and Parker Koricina. A limb has fallen from our family tree that says grieve not for me, remember the best times, the laughter, the song, the good life I lived when I was strong. Mom, Grandma, Great Grandma – Our family thanks you.
"To live in the hearts we leave behind is not to die."
Remembered by Mary and Johns siblings in Holland and in Canada along with their many nieces, nephews and their families. Visitation for family and friends will commence at Our Lady of Mount Carmel Church, Mount Carmel on Tuesday, May 24 at 10 a.m. followed by the Funeral Mass at 11 a.m. The Rev. Fr. Vince Gulikers celebrant. Interment Our Lady of Mount Carmel Cemetery. Memorial donations to the Alzheimer Society, Canadian Cancer Society or charity of choice would be appreciated. T. Harry Hoffman & Sons Funeral Home, Dashwood entrusted with arrangements.